How Shibaura Machine's TOSCAST Controller Can Help You Diagnose Machine Issues Faster
ELK GROVE VILLAGE, IL, June 15, 2023
You know how important it is to quickly identify and address issues with your die-casting machine, but how easy is it? Any delay in resolving an issue can lead to lost productivity, increased downtime, and costly repairs. That's why it's essential to have tools that help you quickly find and diagnose problems. 
Shibaura Machine's TOSCAST controller offers a Machine Diagnosis page that helps die-casting operators quickly address issues before they become more significant problems, minimize downtime and repair costs, and ensure optimal machine performance. 
Important Insights at Your Fingertips
The Machine Diagnosis page provides valuable information on what could possibly go wrong or what has gone wrong. When a situation between switches or sensors creates an issue that affects machine operation, an alarm will occur. The Machine Diagnosis page will help you and your maintenance team find the issue quickly.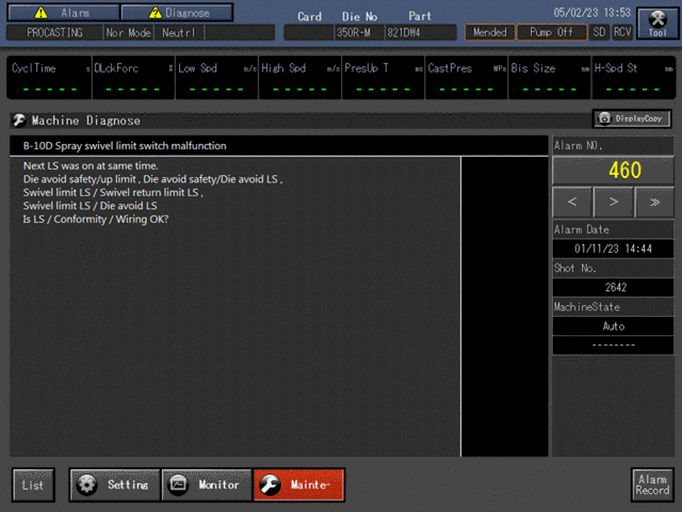 Each alarm has a dedicated alarm code that describes in detail the possible causes of the issue. Possible remedies for the alarm are also presented to aid operators in finding the root cause. This feature allows you to quickly diagnose and address issues before they cause more significant issues.
The Machine Diagnosis page records when an alarm has occurred and allows you to check the history to determine the types and frequency of alarms by using the arrow keys to search. This allows you to identify patterns and address recurring issues that may be impacting productivity and efficiency.
Additionally, the Alarm History page can be accessed to view additional information. Working together, these two pages provide data that can help you identify trends or issues that require attention to ensure optimal machine performance.
Address Concerns Before They Become Issues
By using the TOSCAST controller and Machine Diagnosis page, you can quickly identify and diagnose issues with your die-casting machine. The Machine Diagnosis feature on the controller provides operators and maintenance personnel with valuable information on alarms, causes, and possible remedies.  This allows you to address problems before they become more significant issues, minimize downtime, and repair costs.
Contact Us
Contact the Die Casting team to learn more about this invaluable page on the TOSCAST controller.
If your factory is looking to improve the efficiency and precision of its operations contact the Die Casting team at Shibaura Machine Company, America to learn more about all the TOSCAST features available to help.
Want to know more about our machines?