Ensuring Safe and Smooth Die-Casting Operations Through Regular Review of the Alarm History Page
ELK GROVE VILLAGE, IL, June 1, 2023
"What could possibly go wrong?" This is a question that every die-casting expert has asked themselves. While it is impossible to predict potential issues, the more significant question is: What has gone wrong?
Die casting machines are complex pieces of equipment that require careful monitoring to ensure safe and efficient operation. While these machines are essential for manufacturing high-quality, precise products they, like any piece of equipment, can have issues arise. If these issues go unnoticed, they can lead to costly production downtime or even safety hazards.
Any die-casting operator knows just how critical it is to have an effective alarm system in place to help mitigate risk. Alarms can alert operators to potential problems before they become major issues, allowing them to take corrective action quickly. Beyond that, being able to communicate to the next operator exactly why the alarm was triggered is just as important to prevent more significant issues down the line. 
Easy to Interpret Alarms 
Having an alarm system in place can help you avoid production downtime and ensure the safety of your workers. For example, if the machine lubrication system fails, it can cause the linkage to overheat and become damaged. Without an alarm system, operators may not notice the problem until it's too late, leading to costly repairs and lost production time. With an alarm in place, the system can detect the issue and alert operators, allowing them to take corrective action before any significant damage occurs.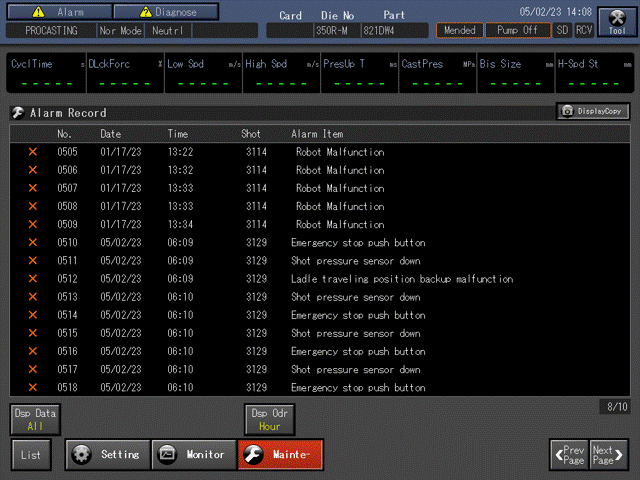 The TOSCAST controller's Alarm History page is a useful tool for tracking alarms on your die-casting machine. This page records the alarm history for the last 140 alarms on the machine. It displays the alarm number, date, time, shot count, and alarm in an easy-to-examine format. With this information, operators or maintenance personnel can quickly check the frequency of an alarm and which alarms have been occurring.
When an alarm goes off, the operator can use the alarm number to search for a detailed summary of its causes and potential remedies on the Machine Diagnoses page. By using these two pages together, alarms can be quickly seen, diagnosed, and remedied.
Start Tracking Alarms Today
The TOSCAST controller's Alarm History page provides a useful way to track alarms on your die-casting machine, allowing you to quickly diagnose and remedy issues that arise. By regularly reviewing the Alarm History page, you can keep your die-casting operations running smoothly and safely.
Contact Us
If your factory is looking to improve the efficiency and precision of its operations contact the Die Casting team at Shibaura Machine Company, America to learn more about all the TOSCAST features available to help.
Get in touch with our Die Casting team to learn more:
Want to know more about our machines?