Monitor, Control, and Manage Your Die Casting Process More Efficiently 
ELK GROVE VILLAGE, IL, May 20, 2021 - 
Does your die casting machine realize the world around it? At the end of the day, the answer is not as much as it probably should. While it is surrounded by auxiliary equipment that monitors temperature, flow, and pressure, the die casting machine itself knows very little of that part of the world.
Shibaura Machine has designed the TOSCAST controller to change that. The TOSCAST controller allows the machine to not only take in information from the world around it, but also process that information in various ways. By focusing on the machine and its surroundings as a whole, this empowers foundries with the ability to improve quality, productivity, and uptime.
The TOSCAST Difference
Improving die casting performance starts with understanding the machine and its auxiliary components as a whole and ends with being able to act on that understanding. The TOSCAST control uses its monitoring screen to present information gathered about temperature, flow, or pressure. But what can the machine or user do with this information? The control takes it a step further by executing on pre-programmed logic and can also give real time information or instructions to the operator.
Manage & Control Outside Information
TOSCAST has three ways to process the information that it is collecting and presents it to the operator on an easy to use real-time interface to make informed decisions.
MONITORING PAGE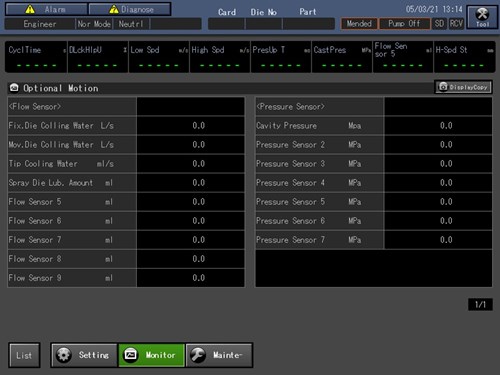 The monitoring page takes the information and presents it numerically to be live and dynamic. For example, capturing the continuous reading of the flow meter on the output of the hydraulic pump. This allows the machine and operator to quickly recognize a change in reading which allows for quicker troubleshooting should a problem arise. 
LINE PAGE

The line display page qualifies the information to a + or - as a result of the shot. If no shot is made the line display will not be updated. For example, a force sensor under a die ejector pin will read true die casting cavity pressure, and this can record and qualify each cycle on the line display page. Castings not having the proper cavity pressure can then be rejected or sorted.
TEMPERATURE PAGE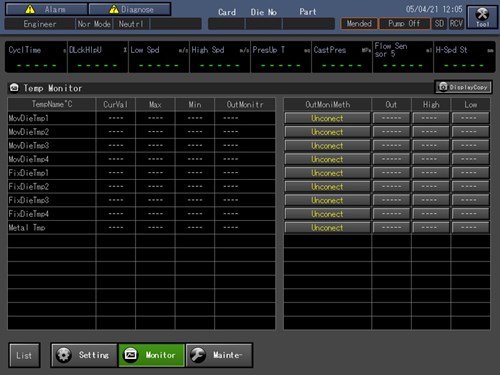 The temperature monitoring page is continuously taking information to allow the user to make decisions about the heaters. This page displays average, max, min or current reading to metal, die or coolant temperature.  The observation and high low limit control are continuous regardless of cycle rate.
By using the TOSCAST control you gain the capability to monitor, control, and manage not only the die casting machine, but its total surrounding world.
Please contact Shibaura Machine to confirm compatibility of measurement sensor device specifications.
Want to know more about our machines?