Improve Visibility and Accuracy in Your Die Casting Production Monitoring
ELK GROVE VILLAGE, IL, December 15, 2022 -
Lack of visibility to shift production operations is a huge hindrance in the die casting process. The more transparency and quick access to accurate, real-time production data the better you can work to improve overall equipment efficiency. The problem is collecting shift production data manually on the factory floor and entering it into management systems is not only tedious and delayed, but highly prone to user error. 
In order to reduce inefficiencies, unexpected machine downtime, and production losses many manufacturers are looking to automated solutions. Shibaura Machine's TOSCAST system offers an easy to use solution with its Shift Production Monitoring page. The information on this page allows managers to drive process improvements, justify capital expenditures, and most importantly work towards improving overall equipment efficiency. 
Automated Shift Production Monitoring
Determining what did or did not happen during the previous shift can have a big effect on the overall die casting operation. In order to continuously improve in the process you need to be able to capture data from your operations and deliver data-driven insights in real time.
The TOSCAST Shift Production page provides data captured from the equipment allowing for immediate insights for both people and systems. No operator input is required, it is all automatically collected with the past six shifts history available. The page displays what is not only happening in real time, but by clicking the PREV button it allows for past shifts visibility. The system also provides tracking on quality alarms which is helpful in understanding problems that have happened in prior shifts.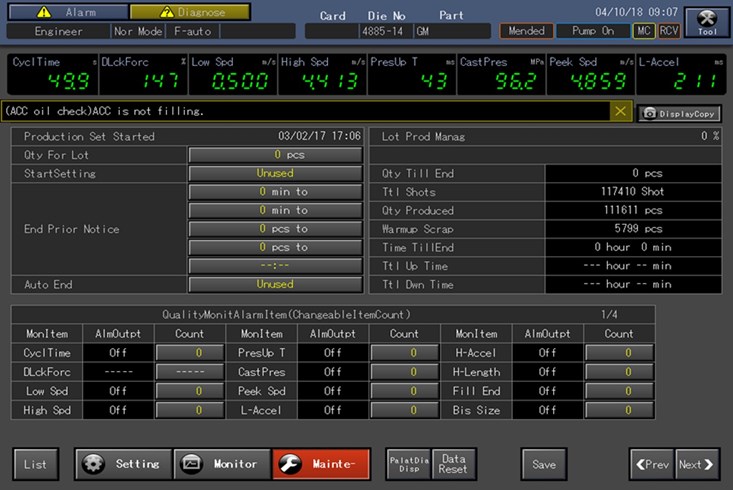 A snapshot of what the Shift Production page provides:
Quick visibility to total shot, time up, and downtime
Access to past data and alarm history to resolve bottlenecks in production
Understanding of operational insights to maximize production efficiency
Start Improving Today
Manufacturing operations use many metrics to measure performance, improve productivity, understand downtime, etc. Having automated data directly collected from the die casting machine is the most accurate way to work towards improving. Now the question of not only what is happening now, but what happened last night can be answered in a quick minute. 
Learn more about the Shift Production page and all the innovative capabilities of the TOSCAST controller by contacting the Die Casting Team today.
Want to know more about our machines?