Reduce Cycle Time in Die Casting with Simultaneous Operations
ELK GROVE VILLAGE, IL, October 20, 2022 -
Die casting isn't just a minute to minute operation. It is normally focused on a single task at a time and is much more than just moving from single steps as quickly as you can. For a hundred years the operation has consisted of the die closing, metal injection, die opening, part ejection, part removal, die lubrication- and repeat. So when it comes to reducing cycle times while still  continuing with the same precision and accuracy many foundries are left looking for answers.
With the vision of the customer in mind, Shibaura Machine Company looked to find an innovative approach to reducing cycle time. The E-Series Shibaura Machine Company die casting machines come standard with electric servo motors allowing them to perform traditional sequential operations of the die casting process in simultaneous parallel operations. Unlike the hydraulic systems which tend to perform the operations in sequential order, the independent nature of the servo motors controlling the all-electric die closing machine allows multiple functions to take place at the same time.
Simultaneous Operations At Once
The electric toggle found on the E-Series machines not only decreases the die open / close times but allows for simultaneous operations, reducing these operation movement times upwards of approximately 20% and improving total OEE.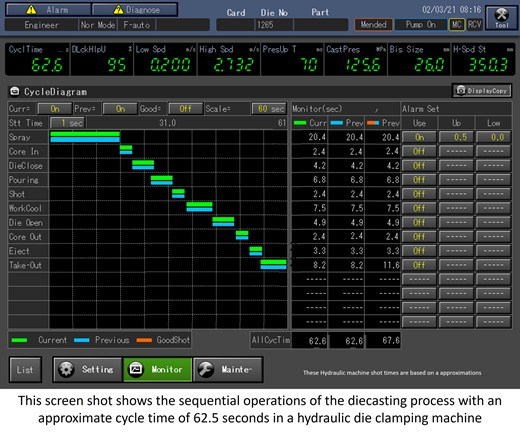 F
or example, the electric die close and electric core operators provide precise control of the core and die movement at the same time. That means the cores can be moved in as the die moves forward, and moved out as the die opens. If no cores are used the die can open electrically and the ejection moves forward to eject the part as the mold opens. So whether it is an open and closed die or a moving element die, this allows foundries a simpler, quicker, and less expensive operation.
Similarly, the die can be programmed to a partially closed position as the spray system lubricates an internal die cavity, further shortening the die close time. Shibaura Machine's servo spray system directly integrated with the E-Series TOSCAST controller brings a highly flexible, modular system that provides consistency and repeatability to the operation. 
Where does the E-Series machine make sense?
The technological advancements of the E-Series are ideal for high production requirements. This includes the competitive and cost sensitive markets such as automotive, agriculture, and consumer goods. These machines are optimal solutions for foundries looking to reduce cycle times while ensuring uncompromised quality in the production of castings with maximum return on investment.
Uncompromised Quality in Production
The addition in electric advancements in the die casting industry is allowing foundries to change the way they do business. Allowing the die casting operation to be done quickly, but with uncompromised quality in the production cycle translates to a better ROI for you and your customers. 
Contact the Die Casting team to learn more: 
Want to know more about our machines?