The Impact of Advanced Temperature Monitoring and Recording in Die Casting
ELK GROVE VILLAGE, IL, July 31, 2023
Optimal die casting results require precise temperature monitoring and control. It's like baking a cake – too much or too little heat will produce an undesired outcome, so precision is key to achieving the desired results.
Accurate temperature monitoring and control ensures that the metal is heated to the right temperature for efficient and successful die casting. Temperature fluctuations can result in casting defects and reduced product quality. However, traditional methods such as independent controllers and operator reliance have inherent limitations that hinder efficiency and quality. 
The TOSCAST provides an advanced monitoring solution that is integrated directly into the die casting machine. This allows accurate and reliable temperature tracking and recording, reducing mold defects and improving product quality. 

Challenges of Limited Monitoring and Data Analysis in Temperature Control
Basic independent controllers and operator monitoring fall short in providing accurate and consistent temperature control.
Lack of precision and inconsistency in temperature regulation can lead to variations in the casting process, compromising quality. Oftentimes, independent controllers do not account for the dynamic nature of the environment in which they are operating. They can only monitor for a single temperature and lack the ability to adjust to changes in the environment, leading to inconsistencies in the temperature control.
Operators may experience delayed response times, resulting in missed temperature fluctuations that can impact product integrity. In addition, multiple temperatures such as die and metal temperature may not be taken into account by operators, which may compromise performance and quality.
Limited monitoring capabilities and the absence of comprehensive data logging and analysis hinder process optimization and quality control. The lack of data logging and analysis means that operators cannot assess the impact of temperature fluctuations on product integrity.
Enabling Precise and Efficient Temperature Tracking in Die Casting
The TOSCAST temperature tracking system is a game-changer in the die casting industry. Designed to address traditional methods' limitations, TOSCAST offers features and capabilities that enable manufacturers to achieve precise and efficient temperature monitoring and tracking.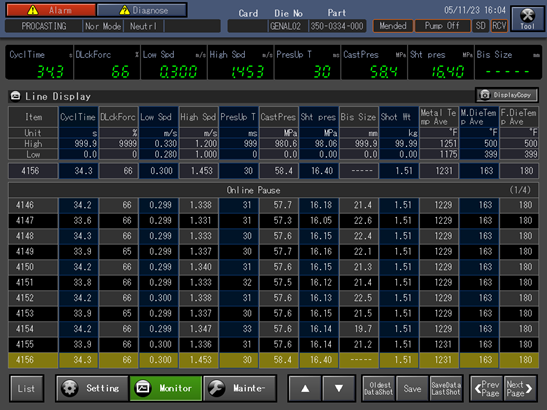 The system's integration with the die casting machine facilitates comprehensive data display, allowing operators to view temperature-related parameters. The quality setup page allows the ranging of temperatures for quality assessment, enabling the identification of acceptable ranges and triggering warnings for deviations. Auxiliary systems, such as heating coils and water cooling, can be controlled based on temperature limits on the temperature monitoring page, enhancing overall process efficiency.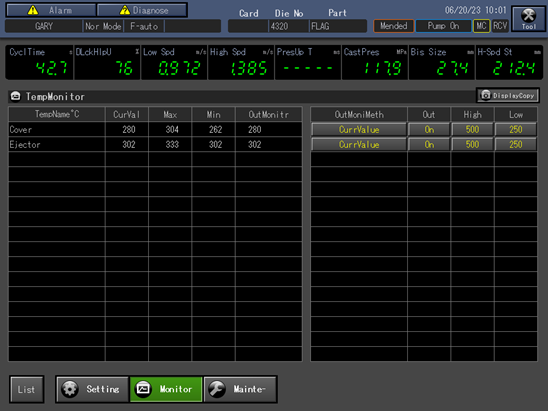 The trend display page in TOSCAST provides statistical variation analysis, offering valuable insights into the casting process. This data-driven approach helps identify areas for improvement, optimize process parameters, and maintain tight control over temperature fluctuations.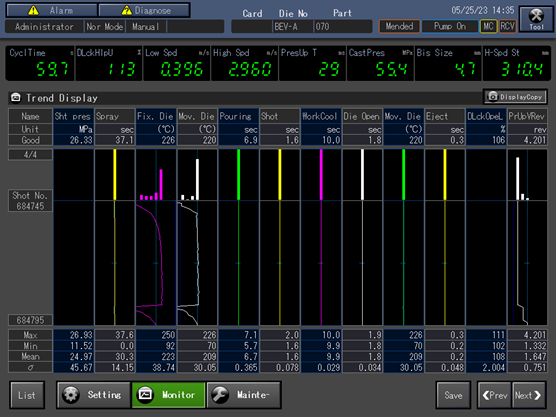 A Path to Achieving Operational Excellence
Leveraging TOSCAST temperature monitoring and reporting capability, manufacturers can experience significant improvements in casting quality, dimensional accuracy, and reduced scrap rates. By harnessing the integrated advanced control system, companies can achieve consistent and reliable temperature monitoring throughout the die casting process.
Contact the Die Casting training team to learn more about how the tracking capability can be customized to your specific requirements.
Contact the Die Casting sales team to learn more about all the die casting machines we have to offer.
Want to know more about our machines?