Integrated Real-Time PLC Visibility Made Easy on Your Die Cast Machine
ELK GROVE VILLAGE, IL, February 16, 2023 -
In today's fast-paced and competitive die-casting industry, it's essential to have the right tools to stay ahead of the game. That's why we've been highlighting the features of the TOSCAST controller in recent weeks, focusing on how it can improve productivity and streamline operations. 
Optimize Operations with the TCPROGO Feature
One feature that stands out is the TCPROGO page, which is a powerful tool for understanding operations and troubleshooting. This feature allows read-only monitoring of the Shibaura Machine's programmable controller ladder logic, providing valuable insights that can help you optimize your diecasting machine uptime. In this article, we'll delve deeper into the TCPROGO page and explore its many advantages. Whether you're new to the TOSCAST controller or a seasoned user, you'll learn something new about how this feature can benefit your operation.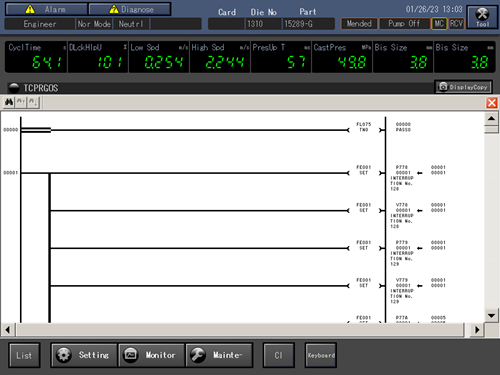 Easy Monitoring
One of the key advantages of the TOSCAST system is that it allows for the operation of the programmable controller ladder logic to be monitored without the need for a separate computer connected to the machine processor. This eliminates the need for cables and drivers that are often required with other machined controllers. The tool button in the upper right corner of the TOSCAST screen will reveal the TCPROGO button. With a simple touch, the ladder monitor software is activated.
Simple Search
The TCPROGO page search function allows users to type in specific contact information and press enter, resulting in the ladder being searched and the first line displayed. The search function can be repeated until the desired line is found. This feature makes it easy to check the combination of contacts needed to perform a function.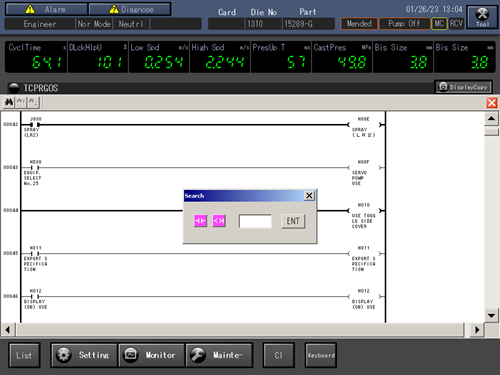 Real-Time
One of the most valuable aspects of the TCPROGO page is that it is in real-time and indicates by highlighting which contacts are on or off. At a glance, the contacts that form the logical line can be seen and reviewed. This makes it easy to identify problems and take action to resolve them.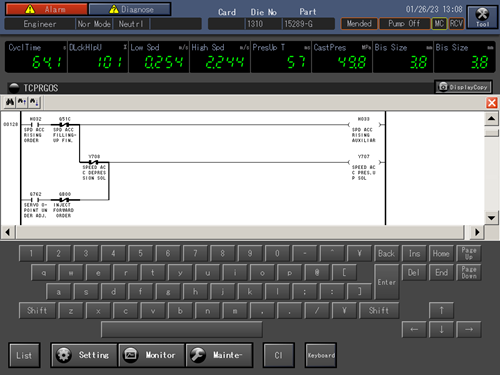 Quick Solutions to Complex Problems
The TOSCAST controller's TCPROGO page is a crucial tool for die-casting operations. It allows for real-time monitoring of the programmable controller ladder logic, making it easy to understand operations and troubleshoot issues. With its advanced search function, operators can quickly and easily identify the contacts needed to perform a function, which makes it an invaluable tool for the die-casting industry. Use the TCPROGO page to help ensure that the machine is operating at peak performance, maximizing productivity, and minimizing downtime.
Contact Us
Get in touch with the Die Casting team to find out more about how you can quickly access this information.
Want to know more about our machines?