Shibaura Machine Unveils Cutting-Edge DC400R2-EM High-Pressure Die Casting Machine with Electric Servo Die Closing
ELK GROVE VILLAGE, IL, November 16, 2023

As a leading innovator in the manufacturing industry, Shibaura Machine is proud to introduce its latest manufacturing solution, the DC400R2-EM High-Pressure Die Casting Machine with 4,000 kN of mold locking force and Electric Servo Die Closing. This state-of-the-art machine sets the standard for precision, efficiency, and sustainability in die casting operations.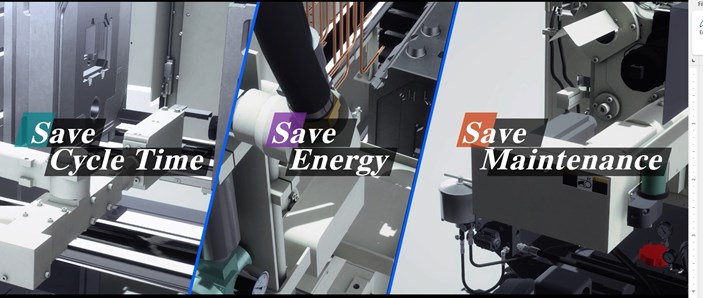 Key Features of the DC400R2-EM High-Pressure Die Casting Machine
1.Save Cycle Time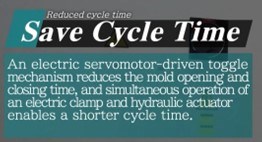 The DC400R2-EM introduces a revolutionary electric servo die closing system, enhancing precision and control in die casting. The DC400R2-EM significantly reduces cycle times in die casting processes. This efficiency is achieved through its advanced servo-motor technology, which streamlines operations and minimizes delays. Faster cycle times mean increased throughput and productivity, making the DC400R2-EM an ideal choice for high-volume production environments. 

By utilizing this innovative technology, not only are cycle times improved, but we are also able to ensure consistent and reliable performance, which in turn increases productivity, reduces downtime, and improves sustainability.
2. Save Energy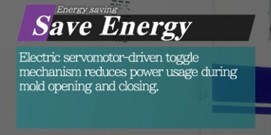 The DC400R2-EM is engineered with sustainability in mind, featuring technologies that not only lower energy consumption but also significantly reduce its environmental footprint and CO2 emissions. Its electric servo technology further enhances this efficiency, optimizing energy use during mold opening and closing, aligning with the growing demand for eco-friendly manufacturing solutions.

3. Save Maintenance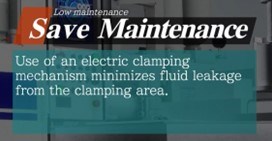 The DC400R2-EM High-Pressure Die Casting Machine's electric clamping mechanism is a standout feature for maintenance efficiency. By minimizing fluid leakage in the clamping area, it addresses common issues found in traditional hydraulic systems. This not only keeps the machine cleaner and reduces maintenance time but also cuts down on the costs and environmental impact associated with hydraulic fluids.  
Enhanced Operability and Advanced Features
With a robust design and innovative engineering, the DC400R2-EM boasts high-pressure casting capabilities, making it suitable for a wide range of applications across various industries. This capability ensures the production of complex and intricate components with exceptional quality.

The machine's advanced servo positioning system of the mold platens enhances the precision of the mold release agent application. This accuracy ensures optimal use of the release agent, reduces spray time, and minimizes waste, leading to a more efficient and cost-effective casting process.

User-friendly and equipped with the latest TOSCAST control, this die casting machine provides operators with a seamless and intuitive interface. This allows for easy programming, monitoring, and adjustment of casting parameters, ensuring optimal performance and quick adaptation to varying production needs.
Continued Innovation and Excellence in Die Casting
Shibaura Machine Company, America is proud to bring the DC400R2-EM to the North American market. This is continuing the company's commitment to innovation, quality, and customer satisfaction. With this new addition to our product lineup, we continue to push the boundaries of technology and provide cutting-edge solutions to the manufacturing industry's evolving needs.
Recognizing the diverse requirements of modern manufacturing, Shibaura Machine Company, America offers customization options for the DC400R2-EM. This allows clients to tailor and automate the machine to their specific needs. This flexibility ensures that the DC400R2-EM is a versatile solution for a variety of die casting applications.
About Shibaura Machine Company, America
Shibaura Machine Company, America is a leading provider of advanced manufacturing solutions. With a commitment to innovation and excellence, we strive to deliver products that meet and exceed the expectations of our customers. Learn more at Shibaura-Machine.com

Achieving manufacturing excellence has never been easier. 
Contact the Die Casting team to learn more:
Want to know more about our machines?