How to Increase Productivity with Our E-Series Three-Platen Die Casting Machines
ELK GROVE VILLAGE, IL, January 27, 2022 -
Innovative technology and mechanics have taken die casting performance to a whole new level over the past several years. Being able to maintain reliability, clamping force, and parallelism  with time proven mechanical toggle clamping and while improving energy efficiency, productivity and reducing overall machine footprint are now within reach. With three-platen die casting machines combined with electric servo motors, manufacturers are able to deliver exceptional OEE.
Shibaura Machine's Die Casting E-Series combines the speed of an electric servo motor, with proven mechanical three-platen toggle clamping. The toggle clamping of the three-platen design not only maintains the die parallelism, but is extremely robust. Paired with faster, more efficient cycle times these machines are excellent options, especially for high volume work.
Three-Platen: Designed for Improved Productivity
The E-Series electric servo motor mechanical clamping three-platen design paves the way for higher productivity. With the elimination of these hydraulic components, the result is  a more robust, programable, precision closing all while using less energy. 
Save Cycle
Shorter cycle times are now possible with the E-Series three-platen optimized design. Being able to control the mechanical clamping motion via an electric servo motor allows for increased platen position speeds, programmable positioning repeatability, added uptime, increased flexibility, and higher productivity. The E-Series machine now also allows simultaneous positioning of cores and platen.
Save Space
Reducing the production space requirements is made possible by the reduction of hydraulic oil volume and not using additional floor space for the hydraulic tank which fits under the E-Series die casting machine. 
Save Maintenance
The three-platen mechanical toggle clamping design has already shown its reliability and low maintenance over its decades of use. With fewer components and utilizing less oil, manufacturers are able to reduce carbon footprint, achieve higher productivity, and save on overall maintenance costs.
Watch the E-Series in action: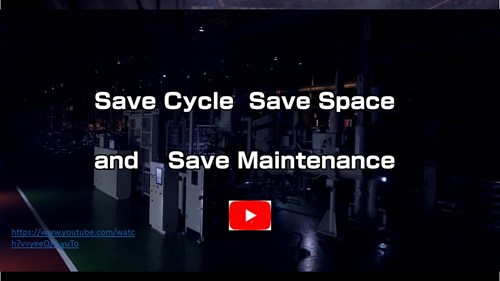 Learn More
Shibaura Machine Company, America's innovative E-Series three-platen mechanical toggle clamping die casting machines ensure high productivity with reduced cycle times while being environmentally friendly. Contact Shibaura Machine Company, America's die casting team to learn more about this readily available technology.
Want to know more about our machines?