How Electric Ejectors Improve Injection Molding Performance
ELK GROVE VILLAGE, IL, November 16, 2022 - An electric ejector system can be a huge competitive differentiator compared to its hydraulic counterparts. The electric ejectors provide molders the ability to view torque giving better insight to allow for improved control of the cycle which prevents tooling damage and increases the life of molds by catching small issues before they create major breakage and unplanned downtime. In addition, the standard eject-on-the-fly feature on the all-electric system allows ejectors to function during mold opening, further reducing cycle time.
Shibaura Machine's all-electric injection molding machines provide users real time feedback and control of the ejector force because of the electric servo motor. This ejector system provides a user-friendly interface with graphical display and is an extremely flexible tool. As a standard feature, the Ejector Monitor screen provides visibility into the instant torque on the ejector servo motor and several options to enhance your ejector monitoring capabilities.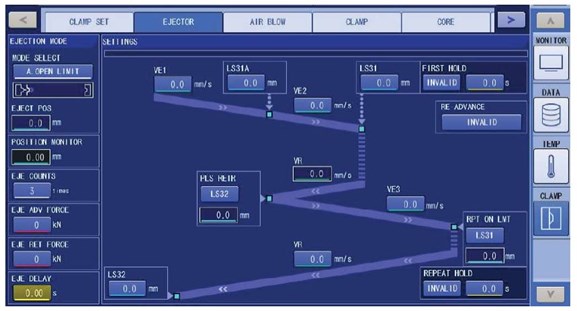 Better Ejector Protection
By using an independent electric servo motor for ejection, the Eject Monitor feature allows users instant insight into the torque and capabilities to help prevent mold damage that hydraulic systems do not. Namely, the user can not only monitor the ejector servo motor torque during ejection, but also set a torque limit on the ejectors. In using this feature, it will help better prevent mold damage when mold components are worn or binding and can easily detect ejection error due to overpacking parts, worn ejector pins and mechanical lifters, etc. and immediately stops the ejector advance operation when an error is detected.
Additionally, operators can monitor the torque in two zones. This allows the eject operation to set limits on the retract limit and advance limit. The eject operation will stop when the detected torque in the desired monitoring zone (1 or 2) exceeds its limit settings. The zones will automatically be returned to the retract limit after eject operation is stopped due to an error detection and an alarm will display alerting the operator to what zone an ejection error has occurred.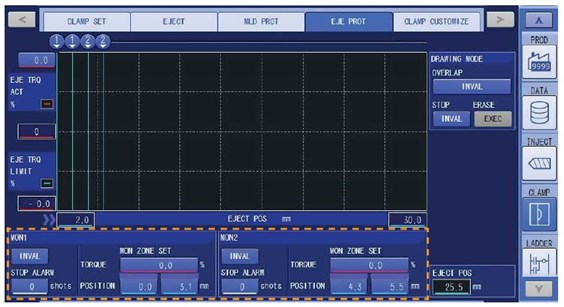 Additional ejector functions available:
Stroke change and eject hold options available for multi-stroke ejection;
First ejection re-advance which stops the first eject operation at the desired position during ejection and then restarts the eject operation;
Continuous high speed ejector circuit enables high speed operation of continuous ejection when setting multiple eject operations to speed up advance and retract operations by using the servo motor control command system 
Gate cut circuit will trigger ejection and perform gate cut after injection completes
Start Improving Machine Efficiency Today
The Ejector Torque Monitor and Eject-on-the-Fly capability on Shibaura Machine ECSXIII series all-electric machines can increase performance and efficiency. If you are not currently utilizing these features on your Shibaura Machine all-electric injection molding machine, contact our team today to get started. 
Tel: (888)593-1616
Email: im-success@shibaura-machine.com
Want to know more about our machines?