Exploring the Natural Pack Feature on the V70 Controller to Improve Injection Molding Processing
ELK GROVE VILLAGE, IL, November 9, 2022 - Manufacturers molding thin and/or long flow length parts are always looking for ways to reduce part defects. With high peak cavity pressure these applications can be particularly challenging. By being able to maximize part quality it not only impacts the performance and success of the end product but can shave time off production and overall cost. Being able to perform less rework also brings a quicker time to the customer, a true competitive advantage in today's market.
One of the best ways to maintain a high level of part quality while also reducing mold wear is to look at the filling, packing, and holding stages of the injection molding process. With Shibaura Machine's Natural Pack processing feature on the V70 controller, molders can produce more repeatable parts, faster while reducing tool maintenance.
Better Process Control 
The Natural Pack processing feature slows the injection just before the transfer to holding. This allows the melted plastic to "naturally" fill out the part cavity. By stopping the screw for a set amount of time at the transfer position, the resin flows from the screw tip in the fill area due to the remaining pressure compressed between the cavity gates so it can be completely filled at a lower pressure below the peak pressure.
For example, consider when flashing is at the head of a part such as a nylon cable tie. As the cavity pressure increases in the nylon cable tie, the Natural Pack feature releases energy, reducing the overall peak pressure. This action decompresses the material and allows the flow front to move forward naturally, reducing cavity pressure and possible flash.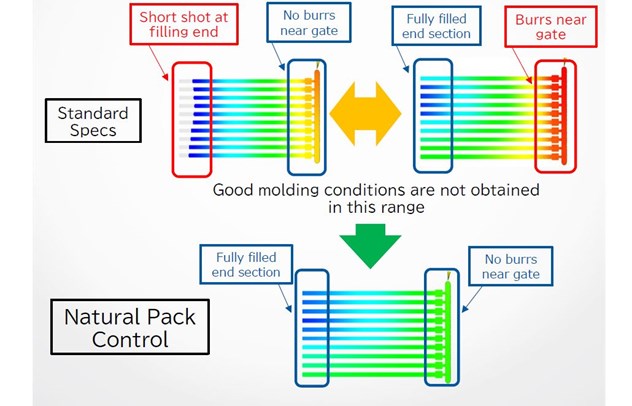 This feature helps to improve several common issues:
Cavity balance
Flash/burrs at the gate 
Short shots at the end of fill
Reducing the clamp force
Less wear on the tool 
Ready to Learn More?
Natural Pack Control is easy to use and readily available on the V70 controller. Contact the Injection Molding team to learn more about the benefits of this feature and get started reducing part rework while improving productivity today.
Tel: (888)593-1616
Email: im-success@shibaura-machine.com
Want to know more about our machines?