Bring Real-Time Quality Monitoring to the Injection Molding Floor with Shibaura Machine
ELK GROVE VILLAGE, IL, November 2, 2022 - How efficiently and effectively are you able to control your quality processes? When quality management is running smoothly it not only maintains quality but is focused on maximizing productivity creating the best result for your investment. 
However, you cannot improve the injection molding process without knowing where it continuously stands and in turn having the ability to adjust. Being able to provide real-time alerts to process inefficiencies, monitoring mold performance, and proactive quality assurance is just not feasible to accurately and efficiently perform manually. In order to create a competitive advantage, it is key to have an intuitive, real-time quality monitoring and measurement tool that automatically creates reports and alerts.
Use Quality Monitoring to Track and Control Your Process 
The Quality Monitoring functions on Shibaura Machine's V70 controller allows production departments to comply with specific quality standards through monitoring the molding process in real time. This means being able to capture and track quality monitoring data for 50+ items including charge time, cushion position, and FPC (transfer) pressure. If the shot does not match the preset tolerance the machine will stop so adjustments can be made.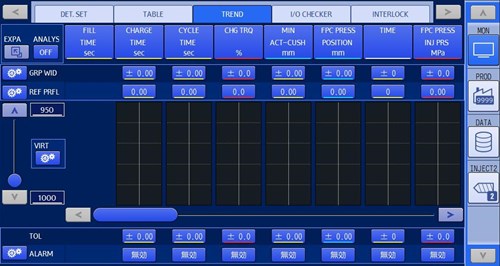 Working Towards Improving Overall Equipment Efficiency
These types of quality management tools help to streamline the process and not only boosts overall factory effectiveness but is held as a key metric to improving overall equipment efficiency. For example, when the process is running well the user can take a reference sample of each of the process parameters, putting a +/- tolerance around the reference points. In addition, they can set up alarms, show trends, and calculate quality statistics for the production run. 
Contact the Injection Molding Team today to learn more about how your shop can gain a competitive advantage by utilizing the Quality Monitoring functions on the V70 controller.
Tel: (888)593-1616
Email: im-success@shibaura-machine.com
Want to know more about our machines?