Give Your Injection Molding Parts Quality a Boost With Moldlyzer
ELK GROVE VILLAGE, IL, November 16, 2022 - The goal of any injection molding operation is 100% quality. Part of that process includes ensuring the injection pressure is right where it needs to be every time, in every stage of the operation. Without the right technology in place, it can be hard for the process technician to ensure proper pressure control. 
The V70 controller's Moldlyzer function provides an ideal solution for the process technician providing the data they need to make sure each shot is within proper ranges. This easy-to-use injection pressure monitoring tool provides metrics on the injection process from start to finish and comparative analysis against past shots. 
Tailored Pressure Monitoring Improves Quality
Instead of monitoring the whole injection process, this function breaks injection into four zones for more accurate data: start, middle, pack, and hold. This quality monitoring function takes it a step further once the process is stable, by recording multipoint sampling of the injection pressure curve. The results of when a good quality part is produced is then used as a reference point. Using this reference point it automatically compares subsequent shots against the reference sample.
Within the four zones, there are 3 different monitoring methods that can be used to further understand quality.
Area method compares the average pressure deviation and tolerance. This data can confirm molding stability at initial auto operation after approximate set-up data has been filtered down. This is the standard method of quality monitoring.

Multi-point method compares the pressure deviation and tolerance per sampling. This method can be used to investigate parts where pressure change is unstable.

Single-point method only monitors a single specific point and is used when pressure variations in a certain point greatly affect product quality.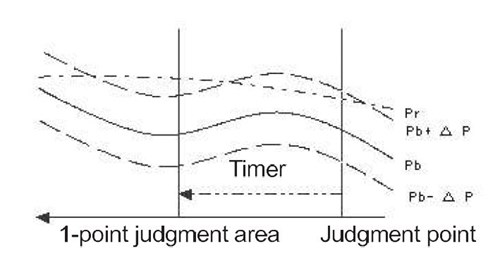 For all four zones, the option to set the PMAX Alarm is available. This alarm can be used to prevent overpacking causing the injection operation to stop immediately when the detection pressure setting is exceeded.

Start Improving Shot Quality Today
Achieving zero-defect production requires reliable process control and can prove difficult without the right technology in place. Shibaura Machine's V70 controller provides a solution for process technicians with a variety of easy-to-use quality monitoring tools to measure and analyze the injection molding process from start to finish. Learn more about the Moldlyzer function and all the process control features on the V70 controller by contacting the Injection Molding team today.
Tel: (888)593-1616
Email: im-success@shibaura-machine.com
Want to know more about our machines?