Stabilize Your Injection Molding Process with Filling Impulse Transfer (F.I.T.)
ELK GROVE VILLAGE, IL, October 4, 2021 - While most modern all-electric injection machines have high levels of repeatability, molding defects can still be an issue due to material property inconsistencies. Perhaps the material lot has changed or the percentage of regrind used has been modified.  The F.I.T. function on Shibaura Machine's V70 controller works to stabilize the molded product quality by responding in real-time to these changes in material viscosity.
Automatically Adjust to Maintain Quality
Can your machine automatically compensate for changes in material properties?  This is a common question injection molding machine manufacturers are asked.  Shibaura Machine's Filling Impulse Transfer (F.I.T.)  control provides automatic adjustment on-the-fly, saving the operator time, guesswork, and preventing potential part quality issues.
The F.I.T. control records the injection pressure profile for good molded parts and automatically adjusts the transfer-to-holding position during the filling process, so that the work amount per speed setting segment is the same as this standard. Below is an example of adjusting the section from LS4A to LS5 +LS10.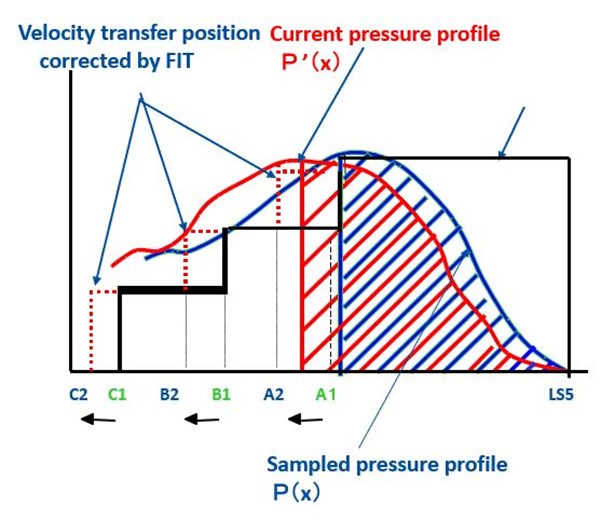 Setting up the procedure on the SXIII series all-electric injection molding machines is simple with the easy-to-use interface. Consult the operators manual for complete instructions which will walk you through setting F.I.T. control start and finish positions, collecting the reference pressure profile, and the ability to use the F.I.T. Control alarm which will alert operators when the speed shift position and pressure shift time adjustments are outside the preset tolerance.
The Shibaura V70 controller was designed with the processor in mind. Learn more about the F.I.T. control and all the features that allow for a more efficient manufacturing operation by contacting our team of experts today at im-success@shibaura-machine.com, or click the link below to request a quote.
Contact us today to see if Filling Impulse Transfer can help your molding shop achieve its goals!
Want to know more about our machines?