Find Your Ideal Chip Conveyor Set Up
ELK GROVE VILLAGE, IL, January 10, 2023 - 
One way manufacturers can work to maximize machine tool output is with the use of a chip conveyor. Not only does it keep the workspace clean and clear of chips, but makes it easier for operators to access the machine tool allowing for improved efficiency and productivity. Back in 2021, we even wrote an entire article on the topic of improving chip filtration and the benefits of a chip conveyor that you can check out.
To ensure optimal operating performance, it is important to choose the appropriate type of conveyor or conveyor system for your specific chip/application. Making sure you have a properly sized chip conveyor that works for your application will not only help achieve desired operating efficiency, but improve output accuracy.
Setting Your Chip Conveyor Up For Success
Defining your application and its requirements will help guide your decision on the most suitable conveyor for your company's needs. 
The type of conveyor you choose will depend on your application. Hinge belt conveyors are still the most common chip conveyor, largely because they can be modified to handle everything from heavy parts to tough scrap. This proven solution is suitable for a variety of materials, chip types, and chip loads. 
Having the right size conveyor on a machine tool will help ensure the efficiency and effectiveness of the machining process. A chip conveyor that is too small, may not be able to handle the volume of chips being produced, leading to a build-up of chips in the workspace. For example, a large horizontal boring machine requires a large space for installation and will produce high amounts of chips, so selecting a chip conveyor that can meet its workload is key to maximize the benefits. On the other hand, if the chip conveyor is too large for the machine tool, it may take up more space on the shop floor and also require more upkeep than needed for the job.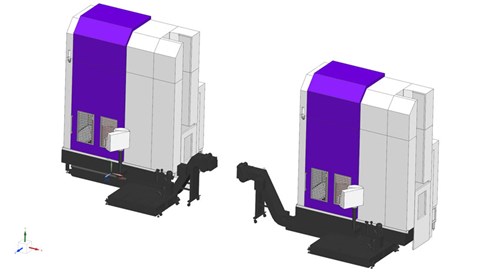 Additionally, consider if your conveyor offers added options and controls. Some conveyors are able to allow operators to regulate speeds for their application to help with chip load capacity and coolant carry-out. These types of features can extend conveyor service life, reduce wear, and improve the overall machining process. 
Find Your Ideal Chip Conveyor Set-Up
By choosing the right chip conveyor for your job it is possible to improve output by effectively removing chips from the machining process and maintain a clean and safe workspace. 
Contact the Machine Tool Tech Team to find your ideal chip conveyor arrangement.
Want to know more about our machines?