How LAN Linkage is Improving Operational Efficiency
ELK GROVE VILLAGE, IL, January 31, 2022 - 
When it comes to connecting a CNC machine to your network, doing so benefits the bottom line by increasing productivity and improving uptime. With local area network (LAN) connectivity, shops are able to easily send application data quickly with seamless integration.
The Shibaura Machine TOSNUC 999 controller provides manufacturers connectivity to the machine tool through LAN. When the high-speed LAN Linkage function is used, program and other data is able to be transferred between the CNC and host computer through LAN connection.
Save Space, Save Time
Without having to install additional software, the LAN Linkage allows shops to gather part programs easily from their machine tools to track productivity and more. Oftentimes providing a seamless integration to existing applications, shops can pass part programs and off-set data to the office environment or higher-level system within their factory automation infrastructure.
Another benefit to LAN Linkage connectivity is that shops can easily share pertinent information. For example, CNC part programs developed in one location can be downloaded directly to the FTP server and viewed in another facility allowing manufacturers to seamlessly exchange data and expedite their processes. Large programs are no problem, as shops can transfer these programs directly to the CNC control.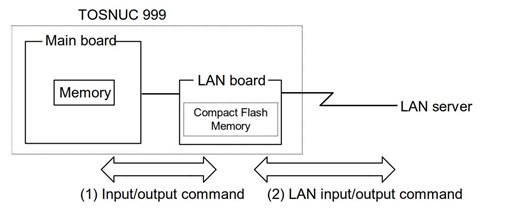 Contact the Machine Tools team to learn more about the LAN Linkage function available on the TOSNUC 999 and how it can improve your shop connectivity.
Want to know more about our machines?