Injection Molding Production Management Made Easy
ELK GROVE VILLAGE, IL, June 4, 2021 - Does your injection molding machine offer easy to use onboard production management tools?
Many injection molding machines lack user-friendly onboard production management functions. A quality production management tool should be efficient- not requiring a ton of data, but just the crucially important data going instantly from machine to manager. It should ultimately boost injection molding productivity and efficiency.
V70 Controller Includes Intuitive Production Management Tools 
Shibaura Machine's V70 controller offers production management functions that are adapted for highly quality-conscious companies that aim for systematic analysis and optimization of their processes. It is a good choice for manufacturers that focus on the transparency of their injection molding processes and comprehensive documentation of component quality. Our V70 production management tools enable users to:
Enter in shot weight, part weight, number of cavities, required number of parts, and container capacity;
Track resin usage, production completion ratio, good parts vs. suspect parts, run ratio, container usage;
Drag and drop icons to configure automatic shut-down and start-up sequences. At the end of production, the machine can automatically shut down, purge material, and load the next mold set-up. After mold change, the operator can initiate an auto-start up sequence including a "soft start" feature. This "soft start" feature allows the machine to inject at a reduced speed, pressure, and shot size for a predetermined number of shots to avoid overpacking the tool.
Optimize Your Injection Molding Process
Shibaura Machine is committed to offering customers the most innovative ways to cut costs permanently. 
The production management functionality on the V70 controller allows for optimal monitoring and analysis of the injection molding process. You can continually measure and  track the production of your parts: shot-to-shot, each and every part. This easy to use production management system offers a clear view of your data within the machine controller allowing you to efficiently manage production.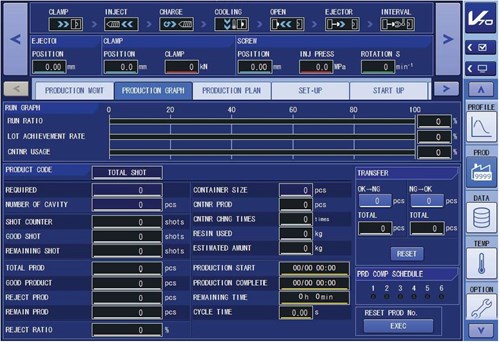 Contact the injection molding machine team below to learn more.
Contact us today to learn how our on-board production management tools can benefit your injection molding operation!
Want to know more about our machines?