Using Programmable Outputs to Improve Injection Molding Productivity
ELK GROVE VILLAGE, IL, May 12, 2021 - The demand for quality parts quickly continues to grow. Shop floors are working to meet customer requirements and being able to boost efficiency in production is key. Having the flexibility of connecting auxiliary equipment easily into your injection molding machine to streamline communication can prove to be a major contributor to improving both cost effectiveness and productivity.
Shibaura Machine's ECSXIII all-electric injection molding machines come standard with 6 freely programmable outputs (with the option to add additional as needed) in order to help facilitate communication between the machine and auxiliary equipment.
Operating Made Smarter
When utilized, programmable outputs not only afford your technicians freedom to perform other operations, but allow for a more efficient production with less stop and go in the process. Utilizing programmable outputs is one of the most cost effective options to automate auxiliary controls.
The programmable outputs on the ECSXIII all-electric machines allow users to freely customize a signal output from the molding machine that can be sent to an external piece of equipment via a dry contact in the machine control cabinet. This feature comes into play whenever an external piece of production equipment needs a signal from the injection molding machine in order to perform its intended operation. The efficiency of the injection molding process is able to be significantly improved by automating various programs of the machine.  
Examples include:
Sending the screw charging signal to a color feeder so color can be dosed into the material stream
Sending a reject shot signal to a reversing conveyor or part diverter chute so suspect parts are separated from good parts
Sending a shot count complete signal to a box filling system
Sending a temperature standby signal to a hot runner controller to prevent resin degradation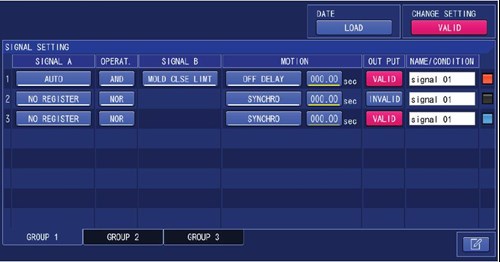 A Solution to Save Time
Are you wondering how you can improve your efficiency in production while still being able to consistently produce quality parts? The ECSXIII all-electric injection molding machine's programmable outputs offer a solution to save time, and ultimately money, by removing the need for technicians to step in and program various operations. 
Contact our injection molding team to learn more about how your shop floor can utilize the programmable outputs on our ECSXIII all-electric injection molding machines. 
Contact us today to learn how the ECSXIII series machines can make your shop more productive!
Want to know more about our machines?