Comparing Injection Molding Ejector Systems - All-Electric vs. Hydraulic
ELK GROVE VILLAGE, IL, March 17, 2021 – Hearing the manufacturing line is down and a mold has been damaged because of an ejector issue is the last thing an operations manager wants to hear. Unfortunately, if you can't maintain tight control over how and where to eject you can expect this problem to keep popping up. It not only slows down production but can be costly.
Is one type of ejector system preferred in order to prevent these types of issues? In this article, we will offer insight into the all-electric and hydraulic ejector systems. 
How Does Electric Stack Up Against Hydraulic Ejector Systems?
While the hybrid machine uses electric servo motors for the main machine axes, it generally stops there. In order to reduce costs, hybrid machines will often use hydraulics for the ejector system while all-electric remains true to its name- using an electric ejector system. This is a big differentiator that allows the all-electric machines to be faster and more efficient since they have independent motors controlling the entire process.
Tooling damage during the ejection process is a common problem throughout the industry. Due to the hydraulic system being incapable of offering feedback and control of the ejector force, expensive tooling damage can easily occur. 
By using an electric servo motor for the ejector system, like what is offered on Shibaura's all-electric injection molding machine, users have the ability to closely monitor the torque on the ejector servo motor and stop the cycle if ejector torque goes above the set upper limit. This capability alone can help prevent expensive tooling damage and downtime, something hydraulic ejector systems cannot provide.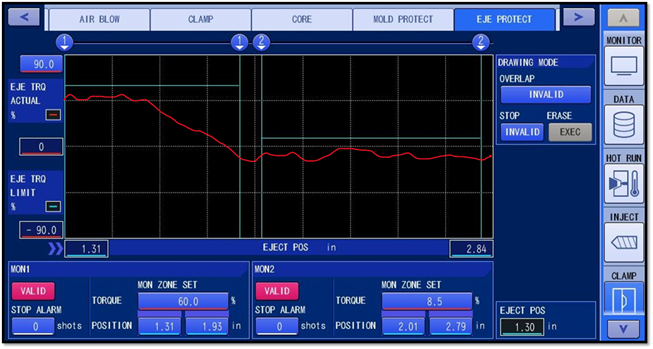 Common wear items in the mold that can be detected:
Worn or bent ejector pins
Worn or broken ejector springs
Ejector components that need lubrication
Operator Ease of Use
At Shibaura Machine, a main focus in our machine design is operator ease-of-use. Our all-electric injection molding machine ejector function was designed to allow users the ability to easily monitor and control the electric ejector system.
The graphical set-up of ejectors on our V70 controller are easy to navigate. This allows for fewer set-up errors and helps to reduce potential mold damage from oversights by enhancing your ejector monitoring capabilities and catching small issues before they cause major breakage and downtime.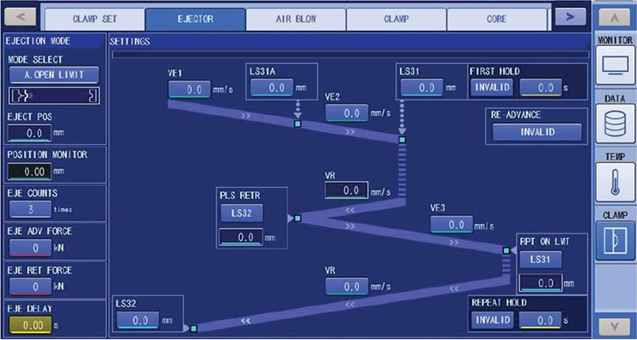 When you select your injection molding machine consider the ejection system it uses. Choosing an all-electric injection molding system can not only improve the life of the injection mold but increase uptime. This all adds up to better efficiency and a more repeatable process.
Contact our injection molding machine department to learn more.
Contact our processing experts today to discuss the proper screw design for your application!
Want to know more about our machines?