How the BSF-150C Floor-Type Boring and Milling Machine Enhances Accuracy in Large Workpiece Machining
ELK GROVE VILLAGE, IL, May 23, 2023 - 
As the demand for high cutting performance, less downtime, and improved productivity increases for machining medium and large-sized parts, floor-type horizontal boring and milling machines have become more popular. 
Shibaura Machine has been at the forefront with the introduction of the BSF-150C floor-type horizontal boring and milling machine. Utilizing FEA/FEM analysis technology, this machine has been developed to provide high cutting performance. Re-engineered from the conventional machine, the BSF-150C responds directly to the market's need for increased speed and accuracy.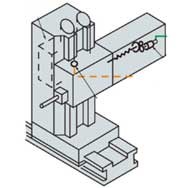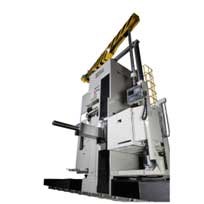 Improving Large and Complex Workpiece Machining
The BSF-150C has been engineered to provide operators with ease of use and improved productivity through the increased axis and spindle speed.
The design also addresses a major challenge in machining accuracy of larger workpieces. The BSF-150C has a spindle head center gravity automatic compensation feature. With this feature, the ram position is optimized to improve accuracy when extending the ram. 
Heavy-Duty Cutting Performance
Floor-type horizontal boring and milling machines can handle the most challenging cutting tasks with ease, making them ideal for industries such as aerospace, automotive, and energy.
Reduce Non-Cutting Time
These machines are designed to minimize non-cutting time, leading to higher productivity.
Based on the application a precision rotary table and/or floor plate combination can be included. With the use of attachments, this allows the machine to be used for 5-sided machining, making them an ideal choice for machining medium and large-sized parts, processing complex shapes and features, and machining large workpieces with high precision.
Ready to Learn More?
By making full use of a wide variety of attachments and on-machine measurement, along with the improved process integration and automation, even large workpieces can now achieve high precision processing.
The BSF-150C is a top choice for industries that require high-quality machining. By utilizing the latest technologies, these machines will continue to evolve and contribute to higher productivity and precision in machining. Contact the Machine Tool team to learn more about machine features and industry-specific use cases.