Precise Machining on the MP-(U) for Challenging Materials with the Grinding Attachment
ELK GROVE VILLAGE, IL, April 05, 2023 - 
Multi-tasking machine tools have revolutionized the manufacturing industry, providing a versatile and efficient solution to various machining requirements. These machines are designed to perform several functions all in one setup. 
Shibaura Machine's double column machining center MP-(U) series is a versatile multi-tasking machine that can be used for a variety of applications, including milling, drilling, and grinding. The grinding attachment is one of the key features of the MP-(U), allowing users to easily perform high-precision grinding operations, even with the most challenging materials.
The grinding attachment on the MP-(U) is designed to be user friendly and highly precise. It consists of a grinding spindle, which is mounted on a special adapter that attaches to the machine's main spindle. The adapter is designed to be interchangeable, allowing machinists to quickly switch between different grinding applications.
The grinding spindle is driven by a high-speed motor, which provides the power necessary to grind even the toughest materials. The spindle is also equipped with precision bearings and a dynamic balancing system, which ensures that it operates smoothly.
The grinding attachment on the MP-(U) is managed by the TOSNUC CNC control, which allows users to program the machine to perform a wide range of grinding operations. The TOSNUC includes a user-friendly interface that allows machinists to easily input the necessary parameters, such as the grinding speed, feed rate, and depth of cut.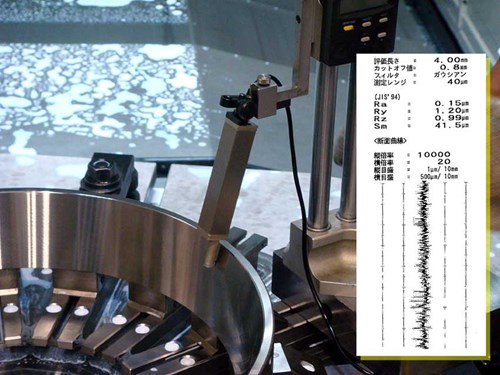 Applications for Grinding
In addition to its precision and ease of use, the grinding attachment is highly versatile. It can be used for a variety of situations when a machining operation requires the removal of material from a workpiece with high precision and a fine surface finish.
Grinding cylindrical surfaces
Most commonly, the attachment can grind cylindrical surfaces, such as the outside diameter of a shaft or the inside diameter of a bore. When a high level of precision is required, such as in the manufacturing of automotive parts or precision components for machinery, this is a preferred method. 
Grinding flat surfaces
Machinists can use the attachment to grind flat surfaces, such as the top of a workpiece or the surface of a block. Where a smooth and flat surface is required, such as in the manufacturing of precision components for machinery or aerospace parts this can be especially useful.
Machining Hard Materials With Precision
By adding a grinding attachment to the MP-(U), machinists can perform grinding operations on workpieces without the need for a separate grinding machine. This can help to reduce costs, increase productivity, and improve overall efficiency in manufacturing.
Contact the Machine Tool team and learn more about how the grinding attachment for the double column machining center MP-(U) series helps you achieve the precise results you need.
Want to know more about our machines?