Versatility Meets High Performance With the TSS VTL Table Slide Mechanism
ELK GROVE VILLAGE, IL, April 4, 2022 - 
The power to multi-task in shops is increasingly becoming a valuable tool and competitive differentiator. With the right multi-tasking machines, manufacturers are able to reduce cycle times by offering a single setup, improve tight tolerances, and produce higher quality parts. 
Shibaura Machine's TSS series VTL streamlines the process of CNC machining and offers both turning tables and milling/boring spindle capabilities in a versatile, high-performance machine. 
The addition of the table positioning and live spindle also allow boring, drilling, and tapping operations. Under the machine table is a longitudinal cross-rail which further increases swing clearance. Combining these conventional machining processes has created a new standard in single column-type machines that allows shops a powerful and accurate option that is also easy to operate for a variety of workpieces. 
A Machine Table Designed for Accurate and Versatile Machining
The TSS series machine table design maintains stable heavy-duty cutting operations at high speeds. With one of the largest swing dimensions in the machine tool industry, it is an ideal choice for accommodating large-diameter workpieces allowing accurate machining. 
The high table weight capacity is supported by a high-precision thrust cylindrical roller bearing and a tapered roller bearing. The table is driven by the main motor and a large diameter helical gear. Table speed is managed by a two-range hydraulic shifter and AC motor control.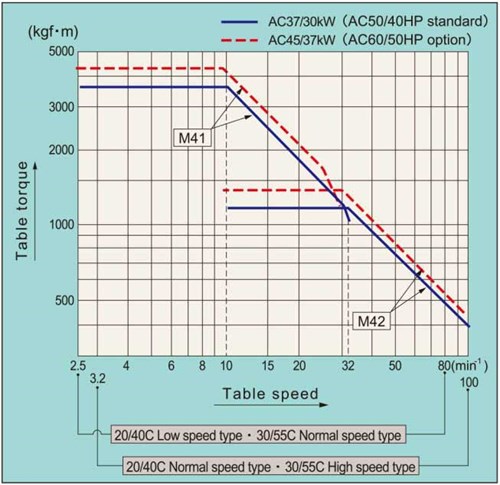 The TSS series style of machine has one of the highest table load capabilities in the industry.
Beyond Just Multi-Tasking
When it comes to multi-tasking, look beyond just combining capabilities into a single machine. You want to consider the machine's reliability, design, and rigidity in order to be able to meet a wide variety of needs. Whether your goals are around lower costs, tighter tolerances, or improved throughput, contact the Machine Tool team to learn more about how the TSS series and how its unique machine table can help you achieve your production goals.
Want to know more about our machines?